Madeleine Slavick: a photographic essay
ONE OF THE BEST PLACES IN THIS COUNTRY
TEXAS
Texas takes twenty-four hours to cross by train. 'Under The Tree Bob' tells me there is more drink­ing in this state than in other south­ern places. Bob has been sober since 1 Decem­ber 1979, when he sat under a palm tree and made that deci­sion. He is mov­ing to Tuc­son, where he says there are good AA meet­ings. Says only the weak can stop drink­ing: it is they who will ask for the help they need.
But I am happy with a drink on a Sat­ur­day night, and go to the Lone Star Saloon, for live coun­try music, for fid­dle and man­dolin and slide gui­tar, for that pitcher of beer, for the danc­ing in his-n-her jeans, cow­boy hats, stud­ded belts. To hear the drawl.
Tro­phies, near Hous­ton, Texas
At bayou-like lakes, we see lotus, deer, duck, egret, cat­fish, cor­morant, bald cypress, Span­ish moss hang­ing down like soft beards, alli­ga­tors hiber­nat­ing, maybe two mil­lion chat­ter­ing small black birds and one huge hawk with white-tipped wings. By the time we leave the scenery, the moon is fat, above farm­land, prison, refinery.
In the morn­ing, stu­dents pledge to two flags: USA and Texas. A ten-minute walk from school is fast-food Mex­i­can, Chi­nese, fried chicken, and Foun­tain Firearms, a shop with mil­i­tary weapons and cow­boy guns. There are man­i­cures next door, and in the park­ing lot, a man tries to sell per­fume out of the back seat of a car. I see no pedes­tri­ans all day.
Many of the new homes in Texas, and across the South, and maybe across the USA., are in large, look-alike com­mu­ni­ties. Gated, fenced, with names like Grand Mis­sion, Water­view, Bella Terra. I am stay­ing in one of these homes and open all the win­dows to the warm and the wind and say to myself, this could be tor­nado land.
We hear a story of a boy who has never seen a moun­tain. East Texas can be flat as flat, and the car a cen­ter. Train lines have been pro­posed between San Anto­nio, Dal­las and Hous­ton, but have been fought by car and gaso­line con­glom­er­ates. Whataburger has been serv­ing since 1950s, and Sonic serves burg­ers on roller skates, direct to your car in the park­ing lot.
                                  Preser­va­tion Hall Jazz Club, New Orleans
NEW ORLEANS
In this city, there are three-hundred-year-old trees and the older Mis­sis­sippi River, nei­ther Cre­ole, Black, Cajun, White. 
We read a Black news­pa­per, read about police­men burn­ing a Black man just after Hur­ri­cane Kat­rina. They laughed as they burned. A city with much poverty and crime, with or with­out a hur­ri­cane, and in the few days we are here, there is a mur­der. And one late night, we see a man run off with another person's wallet.
Music and food and booze and church and sport and sex. They seem to heal some of the peo­ple some of the time.
We meet a clar­inetist who was men­tored by some of the jazz greats, all Black. He says he is one of the very few Whites to have had this priv­i­lege, and dur­ing Jim Crow time.
 Mural in Ward 9, New Orleans
We meet a man who has been a dri­ver for fifty-one years. I like the way he talks, slow, a lit­tle extra time between his thoughts, and I could lis­ten all day. He says that out by The Lakes, it's been hard to put life back together. 'The Lord. He takes the time He needs.' He says he likes Dix­ieland music best, that he's been with it for a while now. Fin­gers tap the steer­ing wheel.
We meet a vocal­ist who dances with shoul­ders, hips, fin­gers, as she sings: her whole body in the sound. Muscle-toned and white-haired, she slaps her right thigh in beat, and does a quiet, slip­pery hand-wave clap. The host­ess who guides us to front seats says she her­self is a stu­dent of the vocal­ist, wants to sing as joy­fully. We drink a beer called Lazy Mag­no­lia and I think just maybe I could stay in this city and change into some­one like her too. Music can make us brave.
46 HOURS OF TRAIN
But I leave. Travel coach class. Live for forty-six hours in my seat, obser­va­tion car, snack car. Two times I pay so that I can also sit in the din­ing car, with its long low win­dows. I choose the last shift, so I can stay for a long time, read­ing, writ­ing, think­ing, feel­ing, humming.
 New Iberia Train Sta­tion, Louisiana
Over one meal, a man who works with the train com­pany tells me a story. A cou­ple is trav­el­ing home, from Seat­tle to Chicago. The man dies in his sleep, and the woman keeps him dead, under blan­kets, for two days before she noti­fies any­one. Not want­ing to incon­ve­nience, she says, or want­ing to grieve alone, or using the ser­vice of the trans­porta­tion of a corpse. These are her rights.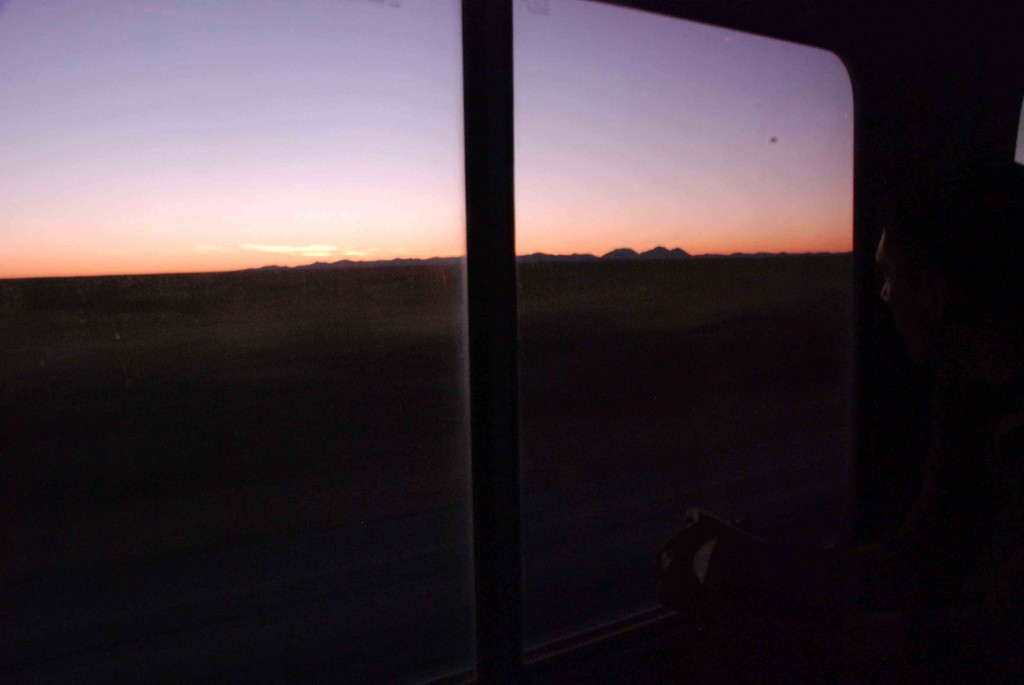 Near Anto­nio, Texas
I lis­ten to a dif­fer­ent lan­guage on the train. 'You hear what I'm say­ing… Whatcha say­ing, girl, that don't make no sense… Don't you mess around with me, boy, I got you fig­ured out…' There is guts and direct­ness, empow­er­ment and asser­tion. The man a few seats away talks like this non-stop with his wife and fam­ily. I find this lan­guage so alive, so cer­tain, but I leave for a while and find, make, dif­fer­ent sounds.
I meet a secu­rity guru of the com­puter world in the snack car with a stiff knee, a replace­ment knee, of metal. Out of kind­ness, he calls me his daugh­ter. I meet a woman from Florida who wants to talk with me and her sis­ter, sud­denly a sort of fam­ily. A guide tells us about the land, in Eng­lish and Span­ish. The javelina is the only wild pig in the coun­try. The Chi­huahua is the largest desert in North Amer­ica. Live­stock are fed the 'blind' kind of nopal, the prickly pear cac­tus with minute spines. The road run­ner runs about twenty miles per hour.
The pas­sen­ger beside me says this is her first train trip and that she is scared. She stays under her Pitts­burgh Steel­ers jacket-blanket and only leaves her seat once dur­ing the long train ride. She is miss­ing sev­eral teeth and slurs some of her words so we can­not always be clear in our con­ver­sa­tions. She grew up in East L.A, and as we come into that part of the town, she looks out the win­dow and says she knows each street. Graf­fiti is on almost every ver­ti­cal sur­face, and one long wall reads: H-U-R-T-S.
'Some­one from Rehab will pick me up,' she says, and when we arrive, we walk to Alameda Street, where she waits, hold­ing a small piece of paper with a name and tele­phone number.
 Down­town Los Angeles
LOS ANGELES
Cold morn­ing, grey, many peo­ple home­less. We see one man being hand­cuffed. He is shak­ing at the curb.
I stay in a home near Uni­ver­sal Stu­dios. Fifty-inch TV, secu­rity sys­tem that beeps as you walk down the front path, a tele­phone that iden­ti­fies the caller and says the name aloud.
Out­side, bougainvil­lea, jacaranda, palm, lemon, smog. The river on the other side of trees may be a freeway.
                                                                                                 Look­out near Hol­ly­wood sign, Los Angeles
Many of the build­ings on the main streets are stucco, with bars on the win­dows: do not enter, do not jump out. The green crosses at shop fronts mean: here is mar­i­juana for your healing.
Then I stay in a Chi­nese part of town. That large tele­vi­sion again, the tele­phone that screens, the home alarm sys­tem, and in the fam­ily room, a table ready for mah jong and many framed pho­tographs, includ­ing of a wedding.
A social worker tells me the state is going bank­rupt. She has lost her eight-hour-a-month job; the com­mu­nity agency had no bud­get. She used to take the Blue Line to work, and along the way, a man would pop out his glass eye, ask for coins, then pop it back in.
It has been 23 years since I lived in the U.S.A., in Los Ange­les, the city where I began as a writer, where so many peo­ple come and try them­selves. About 21 boxes had been stored in a garage for this time. The books, LPs, mem­o­ries, intact, with the super-dryness of this semi-desert city.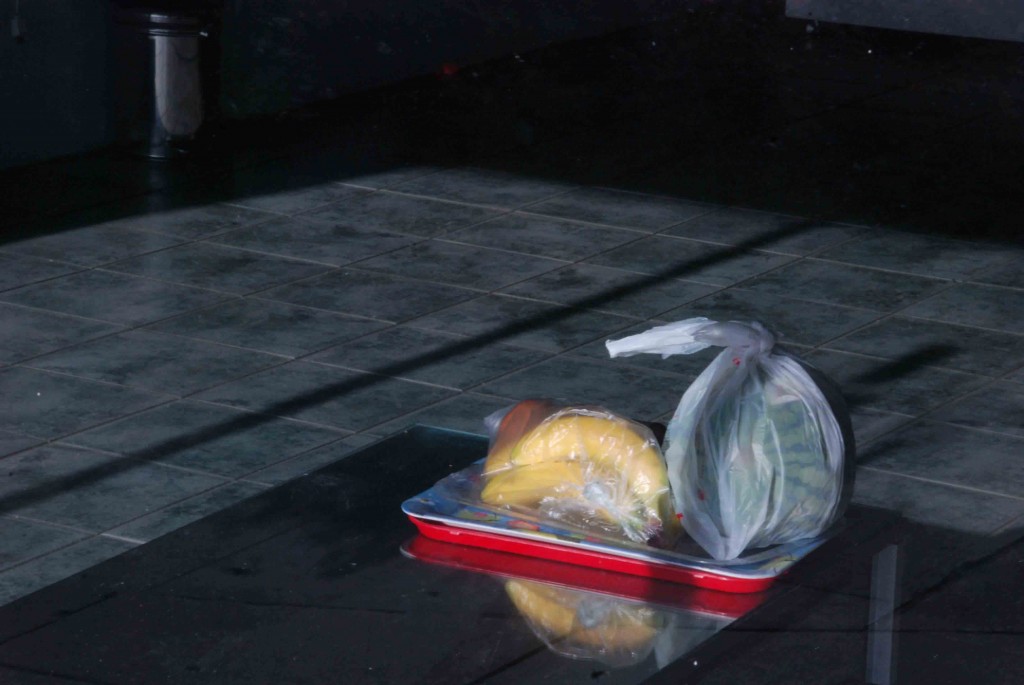 Office table, Los Angeles
USA
Maybe poetry is one of the best places in this coun­try. The yearn­ing. The clar­ity and courage and opti­mism, particularizing.
Oth­er­wise, when I return to the coun­try of my birth, I see lone­li­ness. I see the sense of enti­tle­ment. I see the auto­mo­bile, the home, and the other self-enclosed, pur­chased, spaces. Protected.
The train is a place where, for a while, this lone­li­ness seems less. Space shared, trusted. Public.
Later, on the plane, a Marine, 21, sits on my left, a widow of a Marine on my right. They know a dif­fer­ent lan­guage. Bull­dog is mas­cot. Motto is Sem­pre Fidelis. C.O.P. pro­tects the rifle from dust. She says his shoes are also dust­less and 'Dress Blue Char­lies' the most ele­gant uniform.
Shrap­nel from a land­mine was never removed from her hus­band. One eye sight­less, one ear silent, he would wake shout­ing for years. I tell her I have cam­paigned against land­mines, against vio­lence, against mis­gov­ern­ment, but she seems to believe. Sem­pre Fidelis, Always Faith­ful, she seems to be think­ing. The 21-year-old boot camp grad­u­ate says, 'Yes, M'am' to every­thing I say.
 Found graf­fiti, Mon­terey Park, Los Angeles
Madeleine Marie Slav­ick is a writer and pho­tog­ra­pher. Her books include Fifty Sto­ries Fifty Images (prose and pho­tog­ra­phy from Hong Kong, 2012), Some­thing Beau­ti­ful Might Hap­pen (poetry pub­lished in Tokyo, 2010), China Voices (a study of farm­ers, women, migrant work­ers, eth­nic minori­ties, elderly and youth; with Oxfam, 2010), del­i­cate access (a bilin­gual edi­tion of poetry with Chi­nese trans­la­tions, 2004) and Round – Poems and Pho­tographs of Asia (1997). She has held exhi­bi­tions of her pho­tog­ra­phy in Egypt, Hong Kong, Japan, Sin­ga­pore and the United States. She is based in New Zealand, where she main­tains a daily blog: touchingwhatilove.blogspot.com.
---