Sunil Badami reviews Alien Shores Ed Sharon Rundle
&

Meenakshi Bharat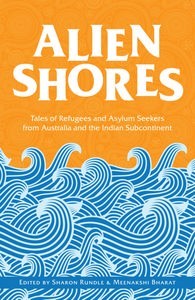 Alien Shores
Ed. Sharon Run­dle, Meenakshi Bharat
Brass Mon­key Press
ISBN 9780980863932
219 pages, RRP $24.95
Reviewed by SUNIL BADAMI
Exile is a pow­er­ful under­cur­rent in the Indian imag­i­na­tion. One of its defin­ing myths, the Ramayana, tells the story of a noble prince ban­ished from his home and spend­ing much of his exile res­cu­ing his wife from the clutches of the tyran­ni­cal ruler of the island of Lanka.
Despite Rama cross­ing a still extant land bridge to reach her – and the Ramayana spread­ing through­out South East Asia – Hin­dus were for­bid­den from cross­ing the kala pani, or black water, for fear of los­ing their caste. It was only star­va­tion and des­per­a­tion caused by the impo­si­tion of impe­r­ial cash crops such as cot­ton, jute and opium that forced many to become inden­tured coolies in far-flung plan­ta­tions in South Amer­ica, the Caribbean, Africa, South East Asia and the South Pacific, mak­ing Indi­ans one of the world's most wide­spread diasporas.
Exile and alien­ation also fig­ure deeply in Aus­tralian mythol­ogy, the 'tyranny of dis­tance' weigh­ing heav­ily, our backs turned from the alien, hos­tile land­scape of Fred­er­ick McCubbin's lost white chil­dren and pic­nics at Hang­ing Rock to the sea, over the sea, over­seas, to 'old Eng­land, the beau­ti­ful' and more recently, 'the land of the free.'
Our alien­ation from our own 'terra nul­lius' have cre­ated a his­tory full of, as Mark Twain quipped, 'the most beau­ti­ful of lies.' As the nar­ra­tor of Michelle Cahill's  'A Wall of Water' observes, 'The past is a ter­ri­tory. So much of it has been excised.' (68)
Both Aus­tralia and India – at once cra­dles of civil­i­sa­tion and new, mul­ti­cul­tural nations – were founded not so much on inclu­sion as exclu­sion. India was born out of the trauma of Par­ti­tion. The Fed­eral Aus­tralian Parliament's first Act was the White Aus­tralia Pol­icy. And both coun­tries have, by way of so-called 'post-colonial lit­er­a­ture,' explored both the agony of exile and the mythol­ogy of history.
As the critic Pierre Ryck­mans observed in his essay, Lies that Tell the Truth (quot­ing C. S. Lewis): 'Myth is the old­est and rich­est form of fic­tion. It per­forms an essen­tial func­tion: "what myth com­mu­ni­cates is not truth but real­ity; truth is always about something—reality is what truth is about."'[i]
As Ryck­mans points out, 'truth is grasped by an imag­i­na­tive leap.' What makes us human isn't lan­guage – ani­mals, from bees to whales, can com­mu­ni­cate; apes can be taught to sign. What makes us human is our imag­i­na­tion: to see and believe that which is not seen. When imag­i­na­tion suc­ceeds, it can reveal the truth. Yet myth often arises when mem­ory fails.
Myths abound about refugees and asy­lum seek­ers: they're oppor­tunists, eco­nomic migrants, queue jumpers, poten­tial ter­ror­ists, they want to change the coun­try, throw their chil­dren over­board, carry con­ta­gious diseases.
As Ross Git­tens observed, the fear those myths engen­der is 'so deeply ingrained, so vis­ceral, that it's not sus­cep­ti­ble to ratio­nal argu­ment. It would be nice if a greater effort by the media to expose the many myths sur­round­ing atti­tudes towards asy­lum seek­ers could dis­pel the fear and resent­ment, but it would make lit­tle dif­fer­ence,'[ii] espe­cially when nei­ther side of pol­i­tics can­not imag­ine any other 'solu­tion' than the Pacific one, and facts and faces are lost amidst the lies, damn lies and statistics.
It seems ironic, then, to com­bat such ram­pant dis­hon­esty and fear­ful mythol­ogy with fic­tion. But as Rosie Scott notes in her excel­lent fore­word to this col­lec­tion of  'Tales of Refugees and Asy­lum Seek­ers from Aus­tralia and the Indian Subcontinent':
It is the writer's act of imag­i­na­tion which is the basis of all good fic­tion, the kind of fic­tion that opens new worlds
to the reader.
(3)
Asy­lum seek­ers and refugees have impacted on the pop­u­lar imag­i­na­tion as much as they have the polit­i­cal debate, with the decade since the Tampa pro­duc­ing books and films such as Eva Sallis's Com­mon­wealth Writ­ers' Prize-shortlisted The Marsh Birds, Michael James Rowland's mov­ing film Lucky Miles, John Doyle's acclaimed Mark­ing Time, Nam Le's award-winning short story col­lec­tion The Boat, Anh Do's best-selling Aus­tralian Book of the Year, The Hap­pi­est Refugee, and SBS's suc­cess­ful Go Back to Where You Came From.
In all of these, refugees were not just pre­sented as face­less sta­tis­tics, but as real peo­ple with mov­ing sto­ries: even those opposed to 'queue jumpers' and 'ille­gals' and instru­men­tal in for­mu­lat­ing the Pacific Solu­tion, such as Peter Reith, could not help but be moved when faced with real peo­ple and their often heart-breaking stories.
One hopes, too, that the sto­ries found in Alien Shores will do the same. Many of its sto­ries are dev­as­tat­ing – not only for the hor­rific and tragic events that pre­cip­i­tated flight – but for the sor­row, regret and guilt that remain once imme­di­ate fear has receded: the father forced to leave his six year old daugh­ter behind in Abdul Karim Hekmat's sweet and sad Life Hang­ing in the Bal­ance; the social worker who must live with her refusal to help in Ami­tav Ghosh's evis­cer­at­ing Morichjãpi; the lit­tle girl who can­not help 'the kind man, some­one else's father from a strange land, being taken away' in Anu Kumar's del­i­cate and haunt­ing Big Fish.
Much less the guilt of the well-meaning 'middle-class do-gooder' like me, who, for all their 'sense of shame at the cruel and oppor­tunis­tic Lib­eral government's inhu­mane treat­ment of refugees' knows no amount of 'wav­ing plac­ards' – much less cc'ing inter­net peti­tions – will ever do much for 'those des­per­ate, inno­cent peo­ple locked up indef­i­nitely in dis­gust­ing con­cen­tra­tion camps in the mid­dle of the desert.' (Page reference)
Over the course of an entire book, this guilt could lead to the very thing Alien Shores must be seek­ing to avoid, if not change: com­pas­sion fatigue. As Go Back to Where You Came From showed, there is as much a limit to imag­i­na­tion as there is to com­pas­sion, watch­ing those unsym­pa­thetic to refugees relat­ing to them on a human or per­sonal level, but con­tin­u­ing to jus­tify their oppo­si­tion to more humane treatment.
As the nar­ra­tor of Linda Jaivin's ten­der and hope­ful Karim says, 'I haven't been able to cope with other people's mis­ery. It's like I'm full up, there's not room for one drop more. It's also like I've become porous: it's as if I let down my defences and opened myself up even a bit, all the sor­row in the world would come flow­ing in. I got good at for­ti­fy­ing my boundaries.'
I wondered—just as I did watch­ing Go Back to Where You Came From—what read­ing Alien Shores will do to change closed minds and move hard hearts, when it's unlikely the peo­ple who really need to read this book will? After all, although Go Back to Where You Came From's view­ing fig­ures were the high­est in SBS his­tory, the X Fac­tor had dou­ble the audi­ence on the same nights.
And that indif­fer­ence and resis­tance is as exac­er­bated by depic­tions of refugees as piti­fully pas­sive tragic vic­tims as the demo­niza­tion of them by right wing politi­cians and shock jocks. One won­ders if Anh Do's suc­cess is because the 'hap­pi­est refugee' leav­ens his suf­fer­ing with hope and grat­i­tude, as much as infus­ing his story with greater agency than flight.
Indeed, where Alien Shores espe­cially suc­ceeds is in offer­ing, through often rich, evoca­tive and some­times vis­ceral writing—as in Deepa Agarwal's grip­ping The Path (which at first could describe any flight from dan­ger, only small but telling details reveal­ing that refugees have existed as long as war has), or Jogin­der Paul's hor­ri­fy­ing Dera Baba Nanak—not just new per­spec­tives beyond those stereo­types, but within us.
Many sto­ries from both coun­tries fea­ture middle-class pro­tag­o­nists or nar­ra­tors, which work effec­tively at shak­ing the very mid­dle class com­pla­cency many of us are guilty of, includ­ing Sujata Sankrati's involv­ing and mov­ing No Name, No Address, Meenakshi Bharat's The Lost King­dom, Tabish Khair's A State of Nice­ness, and espe­cially Ali Alizadeh's con­fronting and shat­ter­ing The Ogre.  
In this regard, the collection's stand out story is co-editor Sharon Rundle's excel­lent Ariel's Song, which makes refugees of ordi­nary Aus­tralians, giv­ing them the same hope­less­ness and impos­si­ble choices. The story offers, in the way only good fic­tion can, the imag­i­na­tive empa­thy that comes with con­nec­tion and com­pas­sion: of putting our­selves in some­one else's shoes and feel­ing what it must really be like for them, espe­cially when the 'they' are us.
The queue grows longer every morn­ing. By the time our water con­tainer is filled I've at least sweated away half that much fluid. Some­where down the line Bill repeats the same story he tells every day: I had a ute and a boat and a business—a big house—all gone—gone—all gone. (107)
The sub­ti­tle sug­gests a the­matic con­nec­tion between Aus­tralia and India, fea­tur­ing sub­con­ti­nen­tal asy­lum seek­ers from Afghanistan, Pak­istan, Sri Lanka and Burma. Unfor­tu­nately this makes the very good sto­ries from China, Indochina and East Timor seem incon­gru­ous, and made me won­der: what about African refugee sto­ries, such as Majok Tulba's? Or South Amer­i­can? Or Balkan?
Still, what they do reveal is the way the lines between one region and another are con­tin­u­ally blurred, the way coun­tries are con­nected by tides of move­ment in a glob­alised age in which multi­na­tional cor­po­ra­tions and transna­tional ter­ror­ists have ren­dered bor­ders obso­lete as much as hybridised iden­ti­ties like mine have dis­solved national ones – a point made vio­lently in Jamil Ahmad's The Sins of the Mother, in which nomads are caught between ancient tra­di­tions and mod­ern laws, 'the lines of demar­ca­tion… con­fus­ing to all.' Much like the increas­ingly bleed­ing bound­aries between per­sonal and polit­i­cal, truth and fic­tion, his­tory and myth.
The waves of suf­fer­ing crash­ing upon our shores, the tide of sor­row set adrift on excised ter­ri­to­ries, the razor wire rolled out around 'unAus­tralians' are dis­heart­en­ing, but for all the noise of polit­i­cal 'debate' and media com­men­tary, the power of lit­er­a­ture, as Scott points out, 'to move peo­ple [and] allow us to see into one another's hearts, to fos­ter com­pas­sion and under­stand­ing and inspire polit­i­cal action works in a way that almost noth­ing else does,' remains long after every­thing else has been washed away.
---
[i] P Ryck­mans (writ­ing as Simon Leys), 'Lies that tell the truth,' The Monthly
[ii] R Git­tens, 'Crack in the wall of xeno­pho­bia,' Syd­ney Morn­ing Her­ald, 23 Feb­ru­ary 2012
---